Can 'The Nun' Fight Off 'The Predator'?
by EG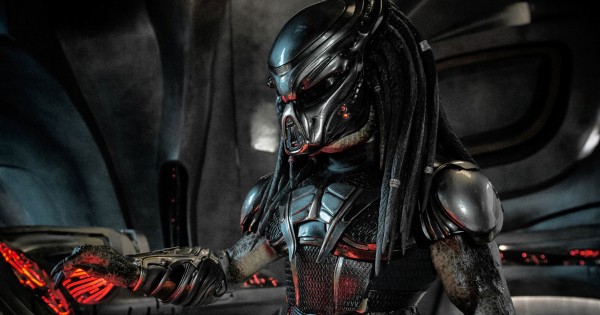 The Predator won't have as big a weekend as The Nun had last week, but it might not need to. Given the poor word-of-mouth that The Nun is receiving, it's second weekend is likely to be much more subdued than its first. That could leave the defending champion vulnerable to being dethroned. Read on for predictions.
---
The marquee will be jam-packed with a myriad of new offerings this weekend as the fall box office gets underway in earnest.
Shane Black's The Predator is expected to conquer the competition and win the weekend ahead of holdover The Nun with a domestic debut in the $25 million-$32 million range from 4,027 theaters.
The Fox film marks Hollywood's latest attempt to revive a long-dormant franchise, and opens more than 30 years after the first Predator, starring Arnold Schwarzenegger as the leader of an elite military team fighting off menacing extra-terrestrials, hit the big screen. In the time since, there have been four other titles in the series, including two Predator-Alien pics.
This time out, Boyd Holbrook, Trevante Rhodes, Jacob Tremblay, Olivia Munn, Keegan-Michael Key, Olivia Munn, Thomas Jane, Alfie Allen and Sterling K. Brown star as The Predator-battling gang.
It's not clear how badly Hurricane Florence will dent the box office. About 20 theaters in South Carolina, North Carolina and Virginia have already shuttered in advance of the storm.
It's likewise not clear whether The Predator will be hampered by the controversy that erupted last week when word broke that Fox cut a scene from the movie after Munn informed the studio that an actor and acquaintance of Black's with a small role in Predator, Steven Wilder Striegel, was a registered sex offender who had served six months in jail after pleading guilty to charges related to his pursuit of a 14-year-old girl. The studio said it was unaware of Striegel's criminal record. (The news hit just as The Predator made its premiere at the Toronto Film Festival.)
New Line's The Nun, which debuted to a heavenly $53.8 million last weekend, could earn as much as $25 million in its second outing. That should easily be enough to beat the other three new movies opening alongside Predator, including Paul Feig's neo-noir-comedy, A Simple Favor.
Rolling out in more than 3,000 cinemas, A Simple Favor, starring Anna Kendrick, Blake Lively and Henry Golding of Crazy Rich Asians fame, is tracking to open in the $12 million-$15 million range for Lionsgate. The critically acclaimed film is a marked departure for Feig, the filmmaker behind such comedic romps as Bridesmaids.
Get the rest of the story at The Hollywood Reporter.
---
Are you going to see a new movie this weekend? Let us know which one in the comments below.