Charlie Sheen Gives Ashton Kutcher His Seal Of Approval At Emmys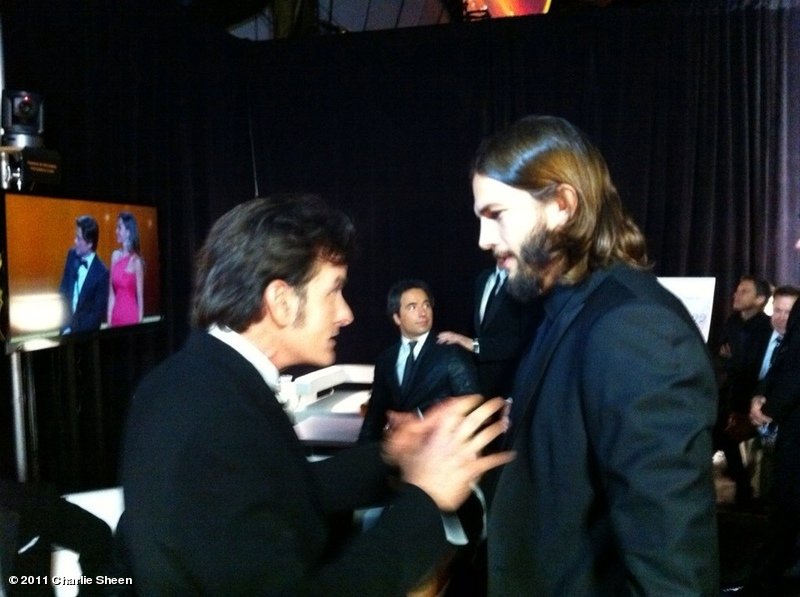 The "Warlock" just might've turned a corner.
Charlie Sheen made the backstage rounds at Sunday night's 63rd Annual Primetime Emmy Awards and who should he come across, but his starring replacement on "Two and a Half Men," Ashton Kutcher.
If the unflinchingly blunt and honest Sheen's Twitter is to be believed, the two snapped a quick photo to be shared with Sheen's many admirers and Sheen gave the former "That '70s Show" star his stamp of approval.
"Giving the new kid a little advice..! With @aplusk backstage at the Emmys...Seriously... @aplusk great talking to you! We'll all be watching! Make us proud!!" tweeted Sheen to accompany the above photo.
One wonders whether that photo-op was actually perhaps just Sheen and Kutcher sharing a couple over one of comedian Amy Schumer's funnier barbs from his Comedy Central Roast, premiering tonight against Kutcher's "Two And A Half Men" debut:  "Just like Bruce Willis, you were big in the '80s and now your old slot is being filled by Ashton Kutcher."
Sheen isn't yet calling off his $100-million lawsuit against Warner Bros. and "Two And A Half Men" creator Chuck Lorre over his firing from the show this past spring, but Sheen has been on a streak of contrition lately. Appearing on "The Tonight Show with Jay Leno" recently, Sheen told Leno that had he been in the aforementioned sued execs' shoes, he'd "have fired his ass, too" over his admitted drug-addled behavior hindering the show's production when Sheen either didn't show up at all or showed up late for shooting the current season.
That being said, Sheen's Emmy-nominated former co-star Jon Cryer told "Extra" red carpet correspondent Mario Lopez exactly why he wouldn't be bothering with setting his DVR for Sheen's roast.
Share This Story:
Talk About This: