'Paranormal Activity 3': Check Out The First TV Spot
by Sean Comer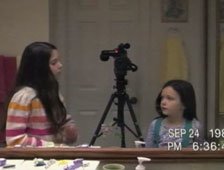 Welll, with the "Saw" legacy hopefully dead and buried, something has to keep me coming back to theaters every Halloween.
So far, I am perfectly fine with it being a new "Paranormal Activity."
Have a gander at the first released TV spot hyping "Paranormal Activity 3," written by the writers of both "Paranormal Activity 2" and the dark indie drama "Catfish," Henry Joost and Ariel Schulman.
The first two movies have worked backwards telling the tragic stories of sisters Katie and Kristi, who at separate times have been plagued by the same malevolent force that first seems to taunt them with its antics, before it gets down to its nasty business and gets violent.
In this third installment, we go clear back to the girls' childhoods to witness the spooky events that both seemingly blocked out or supressed from their conscious memories in the first two flicks.
I admit, I'll come running to see this. But I really hope it ends here. This is about far enough. This story will start getting thinner than condensed soup if what comes next turns out to be some jump forward to the events that chronologically would've happened after "Paranormal Activity."
"Paranormal Activity 3" hits theaters everywhere Oct. 21. Watch the preview here: