Chrissy Teigen Shows Off Baby Bump
by EG
We may never get a look at the baby bumps of the stars of Keeping Up with Kardashians, but at least we've got Chrissy Teigen. The Lip Sync Battle host took to Snapchat last weekend to show off the progress of her pregnancy, lifting her shirt to show her burgeoning bump. Teigen has never been shy, and she's not going to suddenly become modest just because she's pregnant.
---
Via People.
Baby No. 2 for Chrissy Teigen and John Legend is already a globetrotter.
The expectant couple is in taking in the sights of Oslo, Norway, where they attended the Nobel Peace Prize banquet over the weekend. But the 32-year-old model couldn't help checking the progress of her baby bump — and sharing it with fans.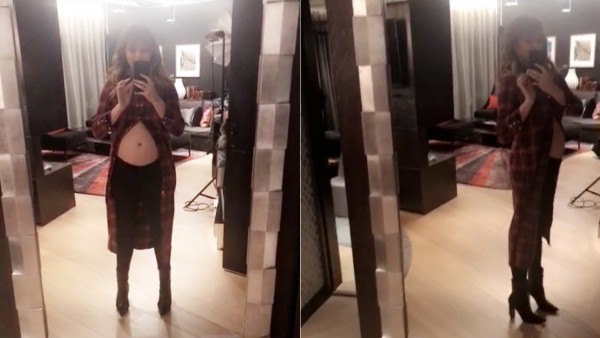 In a video posted to Snapchat, Monday, Teigen unbuttoned the bottom of her shirt to flash her bare stomach.
"It doesn't look like anything from here," she said as she faced a mirror, before turning to show off the side view. "But then you go here…"
After Sunday's ceremony— where Teigen accentuated her growing belly in a fitted pink gown with long sleeves and a cut-out neckline — the duo spent the next day exploring a winter carnival.
The Lip Sync Battle host appeared disappointed as she said in one video, "Everyone else gets to ice skate but me. John won't let me ice skate."
The 38-year-old singer responded from off-camera, "You're pregnant!"
But Teigen was allowed to indulge in all the goodies the festival had to offer, from hot dogs to cake pops.
Get the rest of the story at People.
---
Are you excited about Chrissy's impending bundle of joy? Let us know in the comments below.