'Community' Creator Dan Harmon Shopping New Sitcom at FOX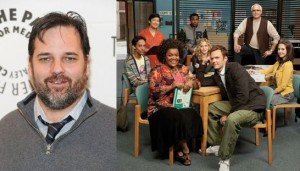 It's tough to be a "Community" fan right now. The show has been renewed for another half-season, but all signs point to cancellation shortly after that. What's more, the show's creator, Dan Harmon, was fired by Sony and will not be involved in this final stretch.
But there's hope for fans of the show, though not in the way they might expect: reports say that FOX is showing interested in a new show from Harmon that would premiere sometime next year, if picked up. Not much is known about the show right now, but it will be a multi-camera sitcom (in the style of, for example, "The Big Bang Theory") as opposed to a single-camera, like "Community" is.
This could potentially add to what is a growing sitcom slate for FOX. With the success of "New Girl" and some buzzworthy new shows like "The Mindy Project," a new sitcom from Harmon could round out the lineup in 2013 if any of the 2012 premieres fall through.
Meanwhile, Harmon is also developing an animated show for Adult Swim, and is working on a project through Kickstarter with "Adaptation" author Charlie Kaufman.
Share This Story:
Talk About This: