'Community' Will Return This Season, Says NBC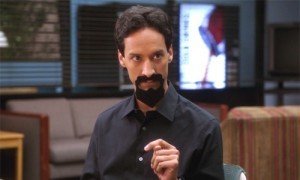 With their goatee Twibbons and flash mobs, it's clear that "Community" fans want one thing: their favorite show back on the air, and pronto.
The critically adored but low-rated comedy ran into some trouble toward the end of 2011 when NBC revealed that it would be leaving the show off of the midseason schedule for an undetermined amount of time in order to make room for other half-hour comedies like "Whitney" and "Are You There, Chelsea??"
But NBC boss Robert Greenblatt wants to set aside all worries about the show being cancelled, at least for now. "I wanted to dispel any notion that it's quietly disappearing from the schedule," said Greenblatt at the NBC press event in Pasadena. With that, he said that "Community" will return to the schedule at some point this season.
That should allow "Community" fans to breathe at least half a sigh of relief (it's great news, but you never know what could happen). There was more good news as Greenblatt talked about a time slot change: he noted that "Community" had an "incredibly competitive time slot" in its 8pm Thursday spot and he would "really like to see what something else would do there."
Sure enough, "Community" has had to deal with "The Big Bang Theory" in that time slot, a show that not only has big numbers but has also won awards, such as Jim Parson's Emmy.
Unfortunately, it's unlikely that "Community" will get a nicer time slot on Thursday, so it might end up being moved to Wednesday instead, joining "Up All Night" and the recently moved "Whitney." Whether that will help or hurt ratings remains to be seen, as Wednesdays feature tough competition in "Modern Family" and "American Idol."
As for a fourth season, Greenblatt said that he doesn't know if there will be one at this point, and noted that the decision will be made closer to the upfront later this year. Fingers crossed, Greendalers.
Share This Story:
Talk About This: