Drew Barrymore Got Naked for Fashion Photographer Bruce Weber
by EG
The latest edition of CR Fashion Book, which hits the newsstands today, takes a look back at the 90s work of fashion photographer Bruce Weber. Weber was very good at getting celebrities to reveal themselves, and in some cases, as with 90s It Girl Drew Barrymore, the revelation was literal. Weber also got surprising shots of celebrities such as Natalie Portman, Mark Wahlberg and Ben Affleck.
---
The '90s are back.
Carine Roitfeld has a new CR Fashion Book coming out — launching today and on newsstands Sept. 7 — and the fashion insider has dedicated the new (11th edition) issue to the delicious year that was 1999. Included is a Bruce Weber exclusive titled "Long Days and Longer Nights at the Chateau Marmont: Photographs and Bedtime Stories by Bruce Weber," featuring "never-before-seen" candid pics of stars in the famed hotel, people like Drew Barrymore, Natalie Portman, Matthew McConaughey, Mark Wahlberg and the Red Hot Chili Peppers.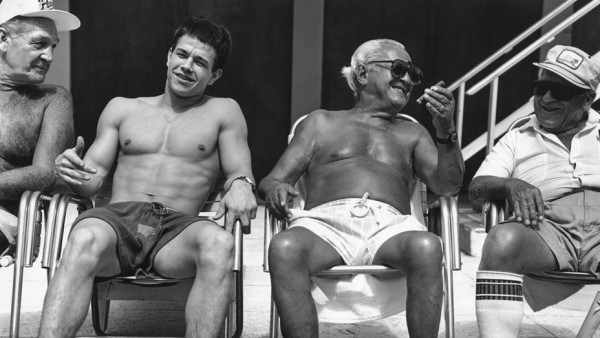 "What is more escapist than time travel?" Roitfeld asks in the issue. "For an industry based on predicting the future, I thought it would be…surprising, let's say, to go back in time for an issue, to a turning point in fashion that represents, for many people, a rare, lost moment of freedom and creativity."
Thanks to Weber's inventory of images, some classic moments inside the hotel are not lost. The lensman tells CR Fashion Book about his time at the Sunset Boulevard hotspot: "In the '90s, I spent lots of time hanging out and photographing at my home away from home: the Chateau Marmont in Los Angeles."
"I'd stay in the penthouse for weeks on end — my life in those days was a little bit like a [Pier Paolo] Pasolini film set to a score by Neil Young. There was lots of room service, many late-night calls of desperation from the people I was going to photograph the next day. Sometimes they would come by and play a tune on a guitar or recite a poem. Many of them were fragile but had winning characters — and they all expressed a courage that I hope stays with them forever."
Get the whole story at The Hollywood Reporter.
---
Do you remember the 90s as fondly as Weber does? Share your reminiscences in the comment section below.