'DWTS': Derek Hough Has Bristol Palin's Back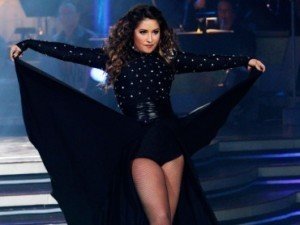 For what it's worth, Bristol Palin has a friend indeed in a veteran "Dancing with the Stars" ballroom pro.
The 21-year-old daughter of former Alaska Governor and 2008 vice presidential candidate Sarah Palin has been on the defensive since just before last week's announcement that she would be joining this fall's heavy-duty "Dancing With The Stars: All Stars" cast on ABC. Most recently, she went off on a rant to Television Critics Association press that nothing she's said in the last year - no matter how ill-informed or ill-advised - should suggest she has an agenda against the gay community.
True, "DWTS" veteran Derek Hough hasn't said one way or another how he feels about the sexual convictions of Lifetime's "Life's A Tripp" personality. Nor has he addressed the distinct possibility a small child just might call him a "faggot" should he not carry the 2010 third-place finisher to the Mirror Ball Trophy.
He is, however, glad to see she signed up, E! Online reports.
"Unfortunately with the Palin drama and crazy entertainment it's brought to the United States, I suppose it comes with the territory," the 27-year-old Hough said. "But I think . . . Good for her - good for her to put herself out there because it's really easy to kind of hibernate and just to disappear."
"She's saying, 'I'm going to go out there and do my thing and if you don't like, then fine!'" he added.
Please, in the name of all in this universe that loves me, let "her thing" include the gorilla-suit bit she and partner Mark Ballas trotted out in 2010.
"God provides opportunities for me . . . The press is going to be talking about me no matter what, so I may as well be having fun," Palin said. Of course, that cynicism leaves one ample aftertaste of bulls**t. You made a reality show, Pumpkin. You picked a means of "providing for [your] son" that's contingent upon trading off your notorious last name in prime time on basic cable. What you're so subtley grousing about comes with the territory.
For Hough's part, if he knows one way or another whether he'll be leading Palin by hand onto floor, he's not saying.  As far as he told E!, his dancing better half remains a mystery even to him.
"I want to be excited about whoever I get," Hough said.
Share This Story:
Talk About This: