Are Emma Stone and Jennifer Lawrence in the Middle of a Feud?
by EG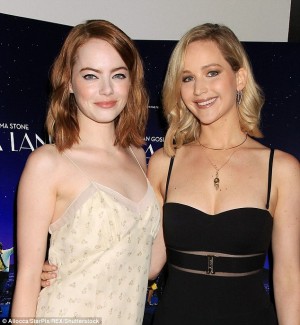 We thought they were great friends, but when Emma Stone and Jennifer Lawrence crossed paths at a press event recently, they didn't seem too happy to see each other. Does this mean that something has come between them? That's what the gossip industry is betting on.
---
Via The Daily Mail.
They have had nothing but praise for each other in the past.
But it seems things may have cooled off between Jennifer Lawrence, 27, and Emma Stone, 28, as the duo were caught in an awkward exchange during TIFF on Tuesday.
The pair saw each other at the Variety Studio during press calls for their films, but neither appeared all that interested in giving the other a hug.
They both smiled politely, but when Jennifer reached in to give Emma a quick hug, the La La Land actress awkwardly backed away, leaving Jennifer hugging the air.
The pair appeared to try to laugh off the moment, but quickly said their goodbyes as they continued to smile.
Emma is there promoting her film Battle of the Sexes, while Jennifer is in Toronto for Mother!.
The exchange is a far cry from their normally close relationship.
Just last October Emma Stone brought Jennifer Lawrence as her date to the New York premiere of La La Land.
Just one month later, Jennifer gushed about Emma in Vanity Fair.
The two were introduced by Woody Harrelson and the rest is history.
The Silver Linings Playbook star told the magazine: 'She texted me that she got my number from Woody.'
The duo then proceeded to text every day for a year.
'I feel like it was our version of The Notebook - 365 texts,' she continued.
Jennifer went on to say not all Hollywood friendships last, it depends on who the person is: 'Emma is so normal and lovely.'
The Easy A actress responded to Jennifer's comments via email admitting she was once intimidated by the successful star:
'She may not even know this, but there was definitely a time early on when I was like 'OH HEY MY EGO IS GOING NUTS SHE'S SO GREAT AND VIBRANT AND TALENTED I'M SCREWED I'LL NEVER WORK AGAIN GOODBYE YELLOW BRICK ROAD.'
But that jealously didn't last long: 'We both really do love each other and care about each other as people, beyond being actors.'
Read the rest of this story at The Daily Mail.
---
If you had to choose sides between Emma and Jennifer, which side would you choose? Tell us in the comment section below.