Syfy's 'Eureka' Cancelled; Cast is 'Shell-Shocked'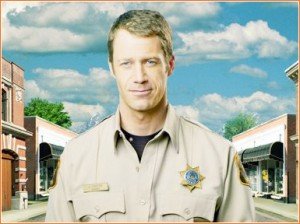 The doors of Global Dynamics will soon be closing.
Executives from Syfy made a surprise announcement today regarding the future of the popular "Eureka." Despite rumors that the network ordered six episodes of the show for a possible sixth and final season, it appears that the show will be cancelled instead. The network released a statement today announcing that season five of the show will be the last.
"After painstaking consideration, we have had to make the difficult business decision to not order a season six of Eureka. But Eureka is not over yet. There is a new holiday episode this December and 12 stellar episodes set to debut next year, marking its fifth season and six memorable years on Syfy."
So why did the show get cancelled? You guessed it - cash money.
"Our creative execs at Syfy fought hard to keep us. Trust me, they LOVE us. We just couldn't make the numbers work," Tweeted Executive Producer Amy Berg.
Just last week, Mark Stern, President of Programing for Syfy, told EW "Bruce Miller and Jaime Paglia have brought a creative vitality to 'Eureka' that has kept it fresh and inventive. Although we do not have a commitment beyond six episodes for the sixth season, we are hopeful that this will not be the end of the franchise."
The show had been a big anchor for the network's new "Powerful Mondays," next to "Warehouse 13" and "Alphas." Now 2012 will be the end for "Eureka."
As Berg tweeted, "Ratings in for last night's show. They are excellent, and continue to rise with each new episode. The definition of bittersweet, I guess."
Quite the radical turn. We went from improving ratings, six more shows and hopes for more to no new episodes at all and a suggestion that you enjoy it while you can. Sigh. It's just been that kind of week hasn't it?
As if it's any consolation, Syfy execs are promising the final episode of "Eureka" will be the best yet.
"The 2012 episodes are some of the best we've seen, and will bring this great series to a satisfying end. We are very grateful to Bruce Miller and Jaime Paglia, their team of incredible writers, and an amazing cast and crew who have consistently delivered a series we continue to be very proud of. We thank the fans for their support of this show and know they will enjoy its final season in 2012."
CNN reported "Eureka" star Wil Wheaton was "shell-shocked."
"I could tell that they were as shell-shocked as I was. I feel comfortable telling the public what I told them: I'm proud of Eureka. I think it's an incredible show, and while I'm sad for them to lose something they've been working on for so long, I'm selfishly sad that I won't get to work with this cast and crew any more. Eureka is a tremendously fun show to make, and from the very first time I set foot on the set, the cast and crew made me feel like I was part of their family."
Share This Story:
Talk About This: