'Family Guy' Creator Seth MacFarlane to Sing Big-Band Hits This Saturday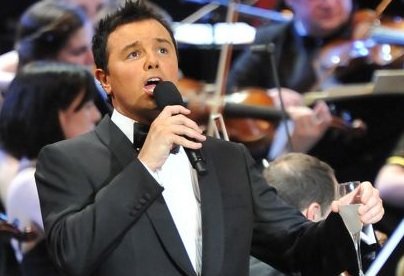 Seth MacFarlane's love for Big Band music is no secret: the "Family Guy" creator has featured many big-band-style numbers on his shows before, including a full episode featuring Frank Sinatra Jr. singing a collection of songs with Brian and Stewie (both of whom, of course, are voiced by MacFarlane).
MacFarlane is taking his love of music to the stage this Saturday, March 26th at the Nokia Theatre in Los Angeles, where he will perform a collection of big-band hits such as "Anytime, Anywhere" and "You're the Cream in My Coffee."
"[With big-band music], if you take vocals out of the track, you have orchestrations that are ingenious works of art. That just doesn't happen anymore," MacFarlane told the LA Times.
It's that love of instrumentation that will have MacFarlane backed up by a 36-piece orchestra at the performance. Musician Sara Bareilles will also join the show.
MacFarlane has a great singing voice, but also has a versatile speaking voice: he voices a number of characters on "Family Guy," "American Dad" and "The Cleveland Show," including main characters Peter, Brian, Stewie, Quagmire, Stan Smith, Roger, and many more.
He claims that it can be rough for a singer to be a voice for animation: "It can be detrimental to your voice, like when you're screaming as Stewie," MacFarlane says. "I try not to record the animated shows too close to performing the music."
Share This Story:
Talk About This: