'Fear the Walking Dead' Showrunners Defend Controversial Character Death
by EG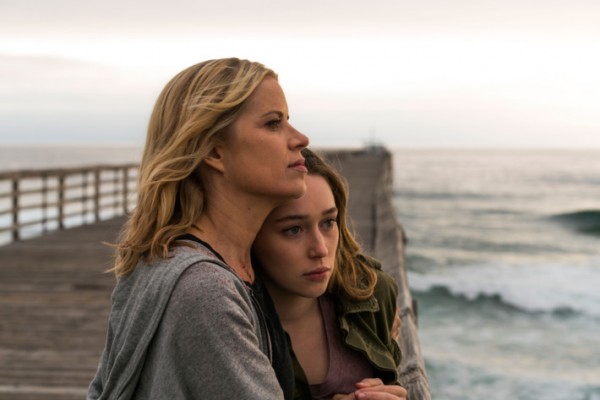 Here's the lesson we're learning about The Walking Dead franchise: don't get too fond of any particular character, not even a series lead. This week Fear The Walking Dead reinforced that lesson by killing off a major character, the second major character to leave the series this season. That's on the heels of the revelation that both Andrew Lincoln and Lauren Cohan will be leaving The Walking Dead next season. Is it all too much? Read on and decide for yourself.
---
For anyone holding out hope that Madison Clark (Kim Dickens) survived her grisly encounter with an army of walkers at the end of Fear the Walking Dead's midseason finale, here's some tough news: The powers that be behind the series have confirmed Madison's death, without equivocation.
There will be no eleventh-hour twist to save her from certain doom, no dumpsters to hide under. Speaking with THR, showrunners Andrew Chambliss and Ian Goldberg (who took on the roles after the season three departure of co-creator Dave Erickson) made it clear that "Madison's story has come to an end," and that there is no wiggle room for any other interpretations.
"There were thousands of walkers in that stadium that were feet away from her just before they went up in flames," says Chambliss, "so Madison died making that sacrifice for her family."
In the wake of her death, Dickens becomes the second original series regular to depart Fear The Walking Dead this season, following Frank Dillane's exit as Nick. Did Chambliss and Goldberg ever feel like it was too much, eliminating two original Fear The Walking Dead characters in the span of six episodes? Why did they feel it was necessary to kill off the lead of the series, seeing as Dickens is on the record stating that she still felt there were more stories to be told about Madison at the time of the character's death? What will the show look like without the Clark family matriarch, and can we expect to see her in some way, shape or form in the future? Read on for Chambliss' and Goldberg's answers to all of those questions and more.
Get the rest of the story at The Hollywood Reporter.
---
Do you agree with the decision to write Madison out of FTWD? Let us know in the comments below.