'Game of Thrones' Prequel Series Moves Closer to Reality
by EG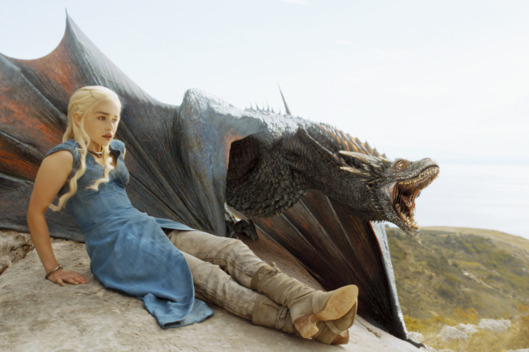 HBO reportedly has commissioned five different scripts for a possible prequel series to Game of Thrones. It's an unusual, and seemingly excessive move, but it seems to be paying off, as the network has now narrowed its choices and given one of the scripts a greenlight. Read on for details.
---
The Game of Thrones franchise has taken its next major steps forward beyond 2019's eighth and final season, with HBO ordering a pilot from Jane Goldman (Kick-Ass) set during the Age of Heroes, thousands of years before the days of Jon Snow (Kit Harington) and his contemporaries.
But Goldman's untitled Game of Thrones project isn't the only successor show in the works at HBO. In a blog post, Thrones mastermind George R.R. Martin (who authored the Song of Ice and Fire novel series on which the show is based) gave an update on where things stand with the extended universe. The short version: Various winters are in varying stages of coming to HBO, with one exception.
"As for the other successor shows," Martin wrote, "if you have been following along, you know that we started with four, and eventually went to five. One of those has been shelved, I am given to understand, and of course Jane's pilot is now moving to film. But that does not mean the others are dead."
Martin did not identify the shelved successor show. Reached for comment, HBO reiterated that "no decisions have been made" regarding the developing concept and declined to specifically address Martin's claim. Beyond Goldman's greenlighted pilot, other writers in the successor show mix include Thrones' very own Bryan Cogman; Westworld scribe Carly Wray, who co-wrote the riveting "Kiksuya" hour of Jonathan Nolan and Lisa Joy's A.I. drama; Oscar-winning L.A. Confidential writer Brian Helgeland; and Max Borenstein of Godzilla and Kong: Skull Island fame. According to Martin, three of those four prequels, "set in different periods and featuring different characters and storylines, remain in active development."
Get the rest of the story at The Hollywood Reporter.
---
Are you excited about a new GoT series? Speak up in the comments below.