Have A Little Taste Of Charlie Sheen's Roast
"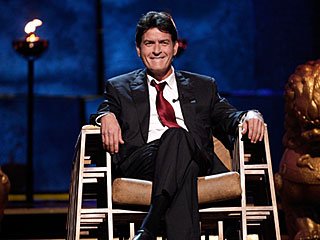 The Comedy Central Roast of Charlie Sheen" doesn't run until September 19th, but the event has already taped, and  E! Online has let a few choice tidbits hit the kitchen floor.
Be warned, folks: screw the Five-Second Rule. These pieces get a little dirty.
The former Oscar nominee and "Two and a Half Men" star and current litigant in a $1-million wrongful termination suit against "TAAHM" creator Chuck Lorre and Warner Bros. left no holds barred and one must give the man credit, he sounds like he came across unflappable.
As always, the roasters cannibalized one another, too. Roast-master Seth MacFarlane assured Sheen's nearest and dearest that at least one guest didn't require much arm-twisting.
"(Brooke Mueller) is here voluntarily. No one put a knife to her throat," the "Family Guy," "The Cleveland Show" and "American Dad" creator quipped.
"(Sheen) banged (Brooke's) @$$ so hard, three balloons of coke fell out," added "Saturday Night Live" alum Jon Lovitz about a trip the two took recently down Mexico-way.
Comedian Amy Schumer couldn't help but notice that the more things change, the more things change the same.
"Just like Bruce Willis, you were big in the '80s and now your old slot is being filled by ("TAAHM" replacement) Ashton Kutcher," she ribbed the "Wall Street" and "Platoon" star.
Legendary Roast-master General Jeffrey Ross couldn't resist doubting just a little of Sheen's infamous rhetoric.
"Charlie, if you are winning this must not be a child custody hearing," Ross said. "[The only times his kids see him] are on reruns. His nostrils are so snotty and full of coke, he calls them the Hilton sisters."
Oh, Sheen took a licking. Not only did he keep on ticking, he sounds like he managed to reach his leg around and kick his own @$$, too.
"'Till tonight, I never realized how fucked up I was. All this time I thought I was just having fun," Sheen said, putting a wrap on the evening.
"The thing is once again, I come out unscathed. You can't hurt me. Hell, I can't even hurt me. Drugs couldn't kill me. Sex couldn't kill me. The press couldn't kill me. 'Two and a Half Men" couldn't kill me (Sean's Note: "That's what she said?"). Did you really think your little jokes were going to kill me? I'm done with the winning cause I've already won. This roast may be over, but I'm Charlie Sheen. In here burns an internal fire. I just have to remember to keep it away from a crack pipe."
The Comedy Central Roast of Charlie Sheen airs Monday, September 19th at 10 p.m. EST.
Share This Story:
Talk About This: