Heal The World: Paris Hilton and Nicole Richie Make Amends!
by Sean Comer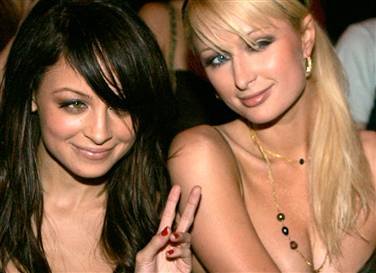 Feuding, fussing rivals of the world . . . you now have no excuse!
Yankee pinstripes may be worn in tandem with Red Sox red, LeBron James can break bread with Cleveland, and Republicans may reach across the aisle to Democrats, because Paris Hilton and Nicole Richie have hugged it out!
It's more than a little surprising that Richie ended up the saner of this vapid pair. She settled down and had babies with Good Charlotte guitarist Joel Madden. Hilton, meanwhile, became a joke butt of DUIs, sex tapes, up-skirt paparazzi flashes and her tanking Oxygen reality show, "The World According to Paris."
But their divergent paths took turns and converged Tuesday when the two were all smiles and hugs Tuesday at a Hollywood event, according to PopEater.
Truth be told, neither has exactly ever been forthcoming about what happened right around the time the pair's original reality show, "The Simple Life," ended in 2007. Hilton has only ever said that Richie "knows what she did" and that she awaited her apology. Maybe now that Hilton has split from boyfriend of a few years Cy Waits, she's feeling a little more humility.
Maybe, for all we know, Hilton just sees a golden opportunity to milk another angle for "The World According To Paris" and the now more level-headed Richie sees an opportunity to promote The Richie Madden Children's Foundation they've both founded.
It could make for an interesting dynamic for an episode or two, since Hilton's show prominently features fellow recovering addict and ex-Mrs. Charlie Sheen, Brooke Mueller.