Rob, Kristen and Taylor: Highlights From This Week's 'Breaking Dawn' Interviews
by Richard Sharp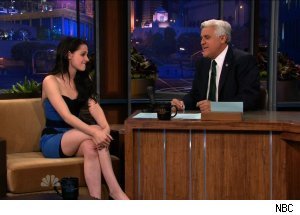 The cast of "Twilight" has been doing a full court press on the media this week in efforts to pump up the premiere of "The Twilight Saga: Breaking Dawn" and it appears to be working. Tickets for opening night are selling out all over the country and it looks to be one of the most commercially successful films of all time.
Kristen Stewart, Robert Pattinson, Taylor Lautner and Kellan Lutz have appeared on late night TV to talk about the film this week, and we've grabbed some of the best video clips from those interviews.
In our first clip, Kristen Stewart takes a break from the "Twilight" chatter to talk with Jay Leno about punching Chris Hemsworth in the face on the set of her newest movie "Snow White and the Huntsman."
"It made such a sound! It literally spun him right around, I knocked him right out of his close-up. It'll definitely be in the movie," Stewart tells Leno.
In other clips, Robert Pattinson engages in some crotch shots with Jimmy Fallon, Taylor Lautner talks Twi-Moms with JImmy Kimmel , and Kellan Lutz engages in a little baby talk.
Watch the interview clips below. "The Twilight Saga: Breaking Dawn" premieres November 18th.
Kristen Stewart on the Tonight Show:
Robert Pattinson on Jimmy Fallon
Taylor Lautner on Jimmy Kimmell:
Kellan Lutz talks Bella's baby: