'The Hunger Games' Set Photo Gallery
by Andy Neuenschwander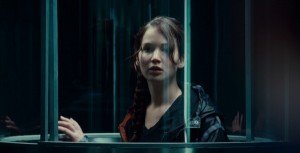 With the start of the new year and "The Hunger Games" hitting theaters in less than three months, you can officially start the countdown clock to the big premiere. You can also expect some new glimpses at the movie to appear soon.
Thus far, Lionsgate has been a bit shy in terms of letting us see what the Games themselves will look like, although the first trailer revealed a lot of everything leading up to them: the Reaping, the training, the Capitol, etc.
We've also been able to hear Taylor Swift's song off the movie's soundtrack, "Safe and Sound," and got some cool promotional stuff like an online puzzle hunt that lead to a new movie poster featuring Katniss and Peeta.
If you want to see more, though, here are a number of photos (via Collider) from the movie's set, and a few clear, hi-res images from the trailer as well. In the photos, you can get a better look at Cinna (Lenny Kravitz), Haymitch (Woody Harrelson), Effie (Elizabeth Banks), and a few of the tributes, including Rue.
Check out the stills and set photos from "The Hunger Games" below: