Jason Sudeikis Urges Robert Pattinson and Kristen Stewart to Host 'SNL'
by Andy Neuenschwander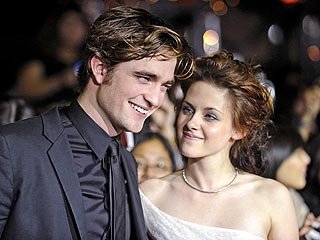 "Saturday Night Live" has seen some tremendous hosts in the recent past, from the sneaky-funny Jon Hamm to former cast member Tina Fey to Justin Timberlake. But there are two people that "SNL" cast member Jason Sudeikis still wants to see host the show: "Twilight" stars Robert Pattinson and Kristen Stewart.
"I think anybody should host if it's something they want to do. Just give it a shot!" Sudeikis told MTV News. He noted that he hasn't met Pattinson before (though he jokes about confusing him with Michael C. Hall), and only recently met Stewart while filming a promo.
Of course, Sudeikis will have the chance to meet pretty much the entire cast of "Twilight" if he wants to on Sunday, when he hosts the MTV Movie Awards.
The latest "Twilight" installment, "Eclipse," is up for a bunch of awards during the show, including two for "Best Kiss"...one with Stewart and Pattinson, the other with Stewart and co-star Taylor Lautner.
Of course, stars usually go on "SNL" to promote an upcoming movie, and if there ever was a movie that doesn't need promoting, it's "The Twilight Saga: Breaking Dawn." There's no stopping it from a huge box office gross. Robert Pattinson could drop-kick a hundred cute little puppies* and it wouldn't slow the movie down one bit.
There's also the risk that Pattinson and Stewart aren't particularly funny. Both of them have mostly stuck to drama during their still-young careers, so surviving on "SNL" could seem daunting. But Sudeikis maintains that it wouldn't matter: "We're certainly a safe place, a safe haven," he said.
"We got you, buddy," added Sudeikis, addressing Pattinson. "Hold on to me tightly. We'll take you through the forest of 'SNL.'"
*(Ed. Note: No cute puppies were kicked in the writing of this article.)