Jennifer Lawrence Was Reportedly Totally Drunk at the Oscars
by Andy Neuenschwander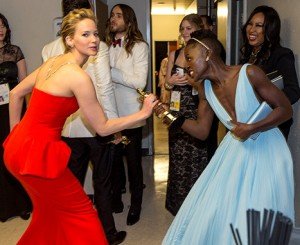 If you've ever wondered how Jennifer Lawrence achieves that special blend of charm and quirky awkwardness, it might be because she's drunk.
The star of "The Hunger Games" reportedly revealed to Seth Myers in an upcoming interview that she got more than a little tipsy at the Oscars. According to the report, Lawrence admitted to Myers that she was drunk at the ceremony and got even drunker at the afterparty.
Apparently she was so drunk that she puked on the steps at Madonna's party. But worry not for her dignity: Miley Cyrus, who has plenty of experience with various substances, reportedly comforted the starlet about the faux pas.
If anything, this may explain why Lawrence fell down on the red carpet. We would also wager that she was extra excited about that pizza that Ellen decided to order in the middle of the show.
Lawrence has a big year and a half of movies ahead of her, as she'll be appearing in the upcoming "X-Men: Days of Future Past" this summer and "The Hunger Games: Mockingjay - Part 1" this November. "The Hunger Games: Mockingjay - Part 2" is set for November 2015, and there's even been some talk of a solo X-Men installment starring her character, Mystique.