Jennifer Lawrence Takes on 'It' This Week
by EG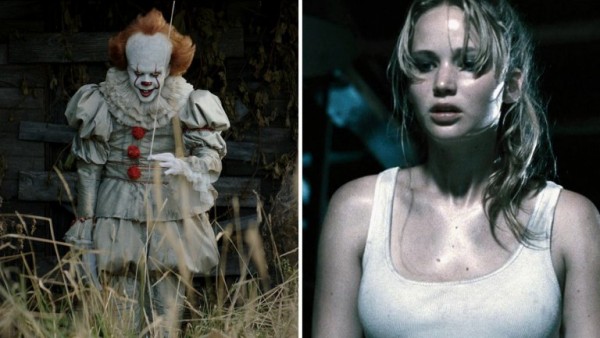 Last weekend, Stephen King's It ruled the box office with a record-breaking debut. This weekend, Jennifer Lawrence's Mother! hits theaters, setting up a competition between two high-profile horror flicks. Which one will end the weekend bloodied and beaten?
---
It isn't even Halloween and horror, in all its many forms, has invaded the box office.
Last weekend, It terrorized the North American box office with a record-shattering $123.1 million debut, the biggest showing ever for a horror film. Now comes along Darren Aronofsky's prestige psychological horror-thriller, mother!
The question isn't which movie will win the weekend — It is the certain victor with a sophomore outing of $50 million or more — rather, can mother! perform in line with prerelease tracking and clear $12 million to $15 million in its domestic launch, or will it be dinged by It? (Arofonsky's Black Swan did modest business in its nationwide launch but had exceptional legs, earning $107 million domestically).
Originally, mother!, starring Jennifer Lawrence and Javier Bardem, wasn't supposed to hit the big screen until Oct. 13, but Paramount moved up its release in July to take advantage of the fall festivals. mother! held its world premiere at the Venice Film Festival on Sept. 5, followed by a stop at the Toronto Film Festival.
"We knew the film was bold and audacious and would stir great conversation and critical acclaim in Venice and Toronto and we wanted to carry that momentum right into our consumer campaign and straight into our release. It's the kind of movie that when you see it, you say to someone you need to experience it for yourself," says Paramount president of worldwide marketing and distribution Megan Colligan.
Tracking for mother! has improved since Venice and Toronto, and Paramount's final marketing push. Last weekend, an unusual, exclusive in-theater trailer for mother! rolled before It. As scenes from mother! play, a voice intones, "In one week, in this theater, one movie will mess you up for life." Later, the same voice says, "You will never forget where you were the first time you saw mother! After the movie, visit the box office to get your tickets."
Aronofsky's $30 million movie has received generally strong reviews, but has polarized some critics. The story follows a woman, named mother, and her husband, named Him, as they welcome mysterious guests into their country Victorian home.
In December 2010, Black Swan — likewise a psychological horror-thriller film— played in select theaters its first two weekends before expanding nationwide into 959 cinemas, grossing $8.3 million for Fox Searchlight. Black Swan enjoyed incredible holding power thanks to awards attention, including five Oscar top nominations and, ultimately, a best actress win for Natalie Portman. Globally, Black Swan grossed $329.4 million.
The horror genre, and its many forms, is the success story of 2017 at the domestic box office. M. Night Shyamalan's Split and Jordan Peele's Get Out were surprise hits, followed now by the historic performance of It, New Line's and Warner Bros.' adaptation of the Stephen King novel about a group of misfit kids who battle the demonic Pennywise the Dancing Clown. Not only did It open to record numbers, but also the $35 million film did huge business Monday ($8.8 million) and Tuesday (11.5 million) for a five-day domestic cume of nearly $145 million.
Read the rest of the story at The Hollywood Reporter.
---
Are you planning to see Mother!? Let us know in the comment section below.