'Jersey Shore' Mates Deena, Sammi Get Out The Claws Over Look-Alike Wheels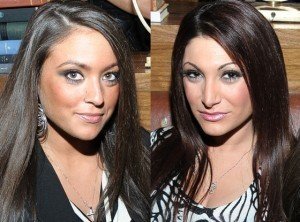 Come on, ladies of "Jersey Shore." Nothing makes a pretty lady uglier quicker than envy.
Into every meatball's life, a little rain must fall, according to E! News. Drama on the MTV guilty pleasure often seemingly squashes pretty quickly, but it does flare up now and again. And in this case, it's taught me that among people who earn make-you-stupid money to have a camera crammed down their respective craws, driving a look-alike luxury automobile is tantamount to wearing a duplicate dress to a red-carpet gala.
And lo, 'twas Sammi Giancola and Deena Nicole Cortese who've sat me down beneath The Learning Tree.
It's an instance when, aside from setting the whole petty kerfuffle up, we'll just let the tweets speak for themselves. Deena was professing her over-the-moon love today for her new, loaded BMW when Sammi took ample offense at just how familiar her pal's new ride looked.
After Sammi snarked that "Imitation is flattery," she tried to smooth the whole thing over before fans found themselves dragged amid the fray. "It's all in good fun people relax alil," she tweeted to some folks with already-ruffled feathers.
Deena wasn't quite done yet.
PHOTO: #JerseyShore star @DeenaNicoleMTV has a new whip! And like the lovely guidette it has some unique styling! ... sulia.com/c/jersey-shore…

— Jersey Shore Xaminer (@JerseyShore411) July 16, 2012
Imitation is flattery ✋

— Samantha Giancola (@MTVsammi) July 16, 2012
My princess twitter.com/MTVsammi/statu…

— Samantha Giancola (@MTVsammi) July 16, 2012
congrats to @DeenaNicoleMTV for her new car that looks EXACTLY like mine. #cantyougetyourownstyle it's alright imitation is flattery 😜

— Samantha Giancola (@MTVsammi) July 16, 2012
It's all in good fun people relax alil.. 😜

— Samantha Giancola (@MTVsammi) July 16, 2012
lol some people are rediculous

— Deena Nicole Cortese (@DeenaNicoleMTV) July 16, 2012
when people are unhappy for other people or pick others apart..that just means they are unhappy with themselves
— Deena Nicole Cortese (@DeenaNicoleMTV)
July 16, 2012
lol @mtvsammi WOW. lol pretty pathetic..im pretty sure theres 11231 ppl out there with white bmws..does yours (cont) tl.gd/ic0dur

— Deena Nicole Cortese (@DeenaNicoleMTV) July 16, 2012
here u go side by side.. they arent exactly the same sam.. you being this immature is sad.. grow up! its a car SWE twitpic.com/a8d65z

— Deena Nicole Cortese (@DeenaNicoleMTV) July 16, 2012
my interior.. Sam take a pictures of yours..im sure its EXACTLY the same.. your sad giiiirl twitpic.com/a8d7lx

— Deena Nicole Cortese (@DeenaNicoleMTV) July 16, 2012
the texts were not in good fun @MTVsammi n you didnt have to bring the drama to twitter.. #WHOCARES

— Deena Nicole Cortese (@DeenaNicoleMTV) July 16, 2012
Share This Story:
Talk About This: