The Jim Henson Company Distances Self From Chick-fil-A
by Sean Comer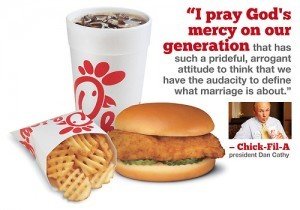 Even The Muppets won't touch Chick-fil-A. Damn.
The backlash hasn't slowed since the national chicken chain's president, Dan Cathy, told the Baptist Press last week that his company was "guilty as charged" of overtly opposing gay marriage's legalization. Ed Helms of "The Office" and two (soon enough, three) "The Hangover" movies let Cathy have both barrels via Twitter and withdrew his hungry patronage.
Then there was the vocal disapproval of Hollywood's NOH8 campaign, backed by Lindsay Lohan, Miley Cyrus and other famous names.
Now, Flavorwire.com reports that The Jim Henson Company will no longer license it's "Pajanimals" toys to the chain's kids' meals. The company's Facebook message leaves no question what proved the deal-breaker, and has garnered upward of 5,000 "Likes" so far for it.
"The Jim Henson Company has celebrated and embraced diversity and inclusiveness for over fifty years and we have notified Chick-fil-A that we do not wish to partner with them on any future endeavors," the statement reads. "Lisa Henson, our CEO is personally a strong supporter of gay marriage and has directed us to donate the payment we received from Chick-fil-A to GLAAD."
Well ... ultimately, it is The Jim Henson Company's money now, to spend as they like. Just like Chick-fil-A, in 2010, donated upward of $2 million of the company's profits to supporting religious causes campaigning against homosexual matrimony's state and federal sanction.
On the one hand, sure, there's a certain freedom that has to exist for people to opine as they care to either way. In a  perfect world, consumers and partners would base having a relationship with the company or declining to do so solely on professional factors.
On the other hand, Cathy really should have known better. He didn't have to change his beliefs on a dime in the name of appeasement, but he also could have just let his silence be his self-defense, keeping social commentary out of Chick-fil-A's business affairs.