SOA Casting: Jimmy Smits' Girlfriend Joins Him on 'Sons of Anarchy' Season 5 in New Role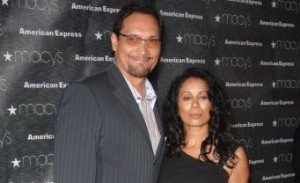 "Sons of Anarchy" has just added another new character for the upcoming fifth season, and she shouldn't have any trouble finding chemistry with at least one of her co-stars.
Wanda de Jesus has been cast in a new role on the show as Carla, an "associate" to new gang member Nero Padilla. Here's the interesting part: Nero is played by Jimmy Smits, who has been dating De Jesus for many years in real life. So, she might be a bit more than just an "associate" on the show. How could you pass up that chemistry?
Series creator Kurt Sutter spoke to TV Guide about Smits' role as well, clearing up how he's going to factor into the season five storyline... at least a little, anyway. "Mentor may be too strong a word, but he's definitely going to be in Jax's orbit and influence Jax this season," said Sutter, noting that Jax and Nero will "work together" at some point.
De Jesus is known for her past work on shows like "CSI: Miami" and "All My Children." She and Smits have been together for more than 25 years and live together in Los Angeles, but have never officially tied the knot.
Share This Story:
Talk About This: