Jodie Foster In Kristen Stewart's Corner, Defends Her Privacy
by Sean Comer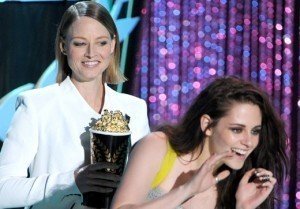 Young women who embraced artistic stardom - or as the case may be, whom stardom embraced - at a particularly young age share a certain kindred spirit.
They're set upon with more expectations, trevails and public scrutinty than anybody usually is or should be during formative years. Hence why Jodie Foster, an Oscar winner who emerged with a sense of self intact into adulthood, has seen "Twilight" franchise icon Kristen Stewart's need for someone who understands in her corner.
That's why Foster, on the same Wednesday Stewart learned she wouldn't be welcomed back to a "Snow White and the Huntsman" sequel following her affair with married director Rupert Sanders, took to The Daily Beast and took Stewart's prying public to task.
To be fair, the "Silence of the Lambs" Oscar-winner is standing as much behind the woman in her twenties who is coming to grips with fracturing her love affair with "Twilight" co-star Robert Pattinson, as much as she is standing by the 11-year-old girl who "begrudgingly" danced around a sombrero with Foster when the two made 2002's "Panic Room" playing mother and daughter.
"In my era, through discipline and force of will, you could still manage to reach for a star-powered career and have the authenticity of a private life," Foster recalled.
"If I were a young actor or actress starting my career today in the new era of social media and its sanctioned hunting season, would I survive?" Foster wondered. "Would I drown myself in drugs, sex, and parties? Would I be lost?"
Foster, indeed, isn't so sure she could withstand it. Nor is she so sure anyone else who would've adopted the roles she bypassed, such as Martin Scorsese's grim, unflinching role of a pre-teen prostitute in "Taxi Driver." She worried - several times aloud - during the five months when she and Stewart made "Panic Room" that the girl would herself wilt under the weight.
"A beautiful young woman strides down the sidewalk alone, head down, hands drawn into fists," Foster imagines, with the detail of a screenwriter. "She's walking fast, darting around huge men with black cameras thrusting at her mouth and chest, 'Kristen, how do you feel?' 'Smile Kris!' 'Hey, hey, did you get her?' 'I got her. I got her!' The young woman doesn't cry. F**k no. She doesn't look up. She's learned."
The essay itself is well worth a full read. But let this much be left with Foster's parting words.
"Eventually, this all passes," Foster says, to Stewart in the second person. "The public horrors of today eventually blow away. And yes, you are changed by the awful wake of reckoning they leave behind. You trust less. You calculate your steps. You survive."