Judd Apatow Busts Jerry Lewis Over Sexist Slam
by Sean Comer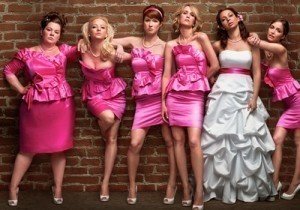 It might've taken 14 years, but what goes around finally came around and cold-cocked Jerry Lewis.
Producer Judd Apatow accepted a Critics' Choice Award Friday night honoring "Bridesmaids" as 2011's Best Comedy recipient. The all-female ensemble cast led by star and co-writer Kristen Wiig made a splash with critics and audiences alike this past May, raking $288 million worldwide and three Golden Globe nominations while generating talk that a sequel may happen despite Wiig openly declaring she wouldn't write one.
All of that being fact, there was the small matter of 1998 comments by the legendary Lewis about the fairer sex's place in comedy that had clearly been stuck in Apatow's craw quite some time, The Huffington Post reported.
"Jerry Lewis once said that he didn't think women were funny, so I'd just like to say, with all respect, 'F*** you!'" Apatow proclaimed to close out his speech - to an ensuing ovation.
Specifically, Lewis said at the 1998 U.S. Comedy Arts Festival in Aspen, CO during a Q&A "I don't like any women comedians . . . A woman doing comedy doesn't offend me but sets me back a bit. I, as a viewer, have trouble with it. I think of her as a producing machine that brings babies in the world."
In all fairness, it's not like Apatow is exactly Penny Marshall himself. While he's no overt sexist, his movies typically have stronger male than female leads. That being said, one also can't ignore that Katherine Heigl's turn in "Knocked Up"  launched her career into a new level and movies like "Anchorman: The Legend Of Ron Burgundy," "Talladega Nights: The Ballad Of Ricky Bobby" and "The 40 Year Old Virgin" often play up sexist, buffoonish males against more wiley female counterparts.
And with "Bridesmaids," Wiig, Apatow and the cast showed that an all-female ensemble need not be relegated to "Sex And The City" charicature territory. That's not to say that right around the film's release last year, Apatow didn't cop to his own skepticism to no less than the New York Times.
"There are a lot of female-driven comedies on the bubble at the studios and they do look to measure how well these thigns do, and what levels of interest there are in certain genres," Apatow said. "One of the reasons there was pressure is because the studios knew ['Bridesmaids'] came out very well, and if nobody bothered to go see it, they could say, 'Even when you make a really good one, nobody comes.' But because people came, the opposite lesson was learned, which is, there's an enormous neglected community of moviegoers who want to see films like this."
Check out the video below to see a Hollywood legend get his comeuppance.