Justin Bieber Responds to Photoshop Claims with Snarky, Shirtless Instagram Pic
by Andy Neuenschwander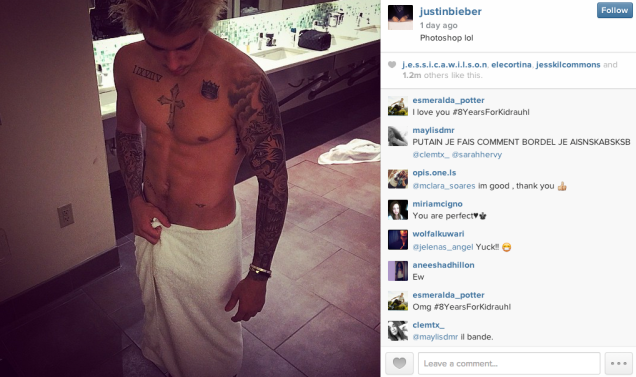 Justin Bieber has one thing to say to haters: "lol."
After some controversy surrounding the pop star's new Calvin Klein ad, which featured some pretty obvious Photoshopping of everything on Justin's body from his back muscles to his bulge, Bieber has finally responded to critics.
"Photoshop lol," Bieber wrote on a shirtless pic of him wearing a towel that he posted to Instagram.
We never tried to claim it was a particularly eloquent response.
Indeed, Bieber looks a tad more muscular in the Instagram photo than he did in the alleged unretouched Calvin Klein photos, but he's still proportioned differently from the finished ad, which is so badly Photoshopped that the singer's hands look to be larger than his own head.
The Instagram pic is also taken in completely different lighting from a completely different angle. But don't think we don't notice the bulge you're surreptitiously showing off there, Justin.
On a side note, how many sinks does Justin Bieber's bathroom have, or even need?