Kate Winslet Pulls Richard Branson's 90-Year-Old Mother from a Fiery Inferno
by Richard Sharp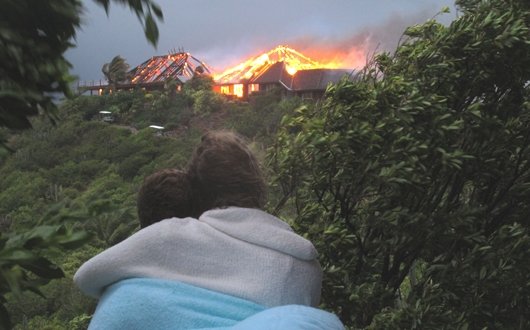 As we reported yesterday, billionaire businessman Richard Branson's house burned to the ground on his island paradise of Necker Island in the British Virgin Islands.
At the time, Academy Award winner Kate Winslet was vacationing on the property with her two children and boyfriend Louis Dowler (along with 20 other guests of Branson) and they all managed to escape safely.
On his blog post yesterday, Richard Branson shared new details about the fire, and it turns out Winslet's heroism during the incident helped save the life of a very important elderly woman.
"My son Sam and nephew Jack rushed to the house and helped get everyone out and many thanks to Kate Winslet for helping to carry my 90 year old mum out of the main house to safety - she was wondering when a Director was going to shout CUT!"
Not only was Winslet brave, but it turns out the apple doesn't fall far from the tree.
"Special congratulations and lots of hugs went to Kate Winslet's two beautiful children Mia, 10 and Joe, 7 – they were real troupers and two of the bravest kids I've ever come across!" said Branson.
Lest we think this was some sort of namby pamby fire that Winslet and the Branson crew braved, Branson posted a video and pictures of the dangerous blaze on his blog. See those below.