Kathy Bates' Cancer Battle
by Shannon Keirnan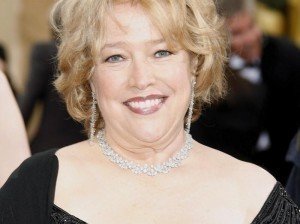 Kathy Bates, who is battling cancer for, sadly, the second time, has undergone a double mastectomy.
Bates was recently diagnosed with breast cancer. Unfortunately, nine years ago, the epic "Misery" actress also fought ovarian cancer.
At 64-years-old, Bates decided "after much consideration," to perform the operation that would remove both breasts.
She announced, via Twitter:
"Hey All, sorry for the long silence. I was diagnosed with breast cancer 2 months ago & am recovering from a double mastectomy. I don't miss my breasts as much as I miss Harry's Law (smiley) Thanks for all the sweet tweets. Y'all kept me going."
If you're not familiar, "Harry's Law" was a drama starring Bates that was cancelled in May.
"Luckily, I don't have to undergo radiation or chemo. My family call me Kat because I always land on my feet and thankfully this is no exception," the actress told her fans with her usual good humor and straight-forward attitude.
"My doctors have assured me I'm going to be around for a long time… I'm looking forward to getting back to work doing what I love to do."
Catch Bates on September 23rd on the 64th annual Primetime Emmy Awards. She has been nominated for outstanding actress in a drama (The aforementioned "Harry's Law") as well as outstanding guest actress for her appearance on "Two and a Half Men."
Since she already has an Academy Award and Golden Globe chilling on her shelves, we're thinking these nominations are just icing on the cake for the "Titanic" actress.
Wishing Bates the best of health as she recovers.