Kristen Stewart Alienates Self From Taylor Lautner. Pattinson Finds Comfort With Katy Perry
by Sean Comer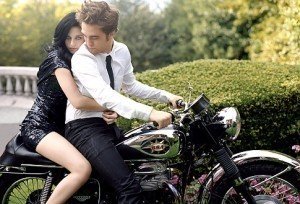 Oh, those fussin', fightin', feudin' Cullens.
As Robert Pattinson readies to emerge from a therapeutic, press-silent solitude in the wake of Kristen Stewart dancing a public cha-cha upon his heart, Stewart's acknowledged affair with her married "Snow White and The Huntsman" director Rupert Sanders has moved planets into alignment against her.
In Cullen v. Cullen, it's reported that Jacob appears bound by a law not unlike that of his own pack: "Bros before hos." Though he's allegedly bound by a studio-imposed gag order not to address his castmates Pattinson and Stewart's now-tenuous relationship while promoting November's "The Twilight Saga: Breaking Dawn Part 2," a source stooged to Hollywood Life that he's quietly disappointed in Stewart.
"He looked up to her," the insider said to Us Weekly. "[But] he's dealing with it in a businesslike way because it's easier for him."
Stewart's mother is reportedly staying out of it, telling OK Magazine, "It's not my affair. My daughter is being hounded."
"Breaking Dawn Part 2" director Bill Condon was considerably more outspoken, telling Entertainment Weekly that Stewart and Pattinson's public owes them better.
"The fact is, there are actors playing parts, and maybe it's not such a bad thing that people be reminded of that," Condon said. "Both of these actors gave heart and soul to the 'Twilight' movies, not only during shooting, but also by navigating so graciously the whole life-in-a-fishbowl aspect of the phenomenon. Above all they have always shown great respect for the fans who made these movies such a success. Now it's time that some of that respect be returned to them."
Meanwhile, Us Weekly reports, Pattinson has been in close touch with Katy Perry as he lays low at Reese Witherspoon's Ojai ranch to heel in advance of next week's "Cosmopolis" publicity blitz (including appearances first on Comedy Central's "The Daily Show with Jon Stewart," then "Good Morning America" and a New York Times Livestream chat) and then October's forced "Breaking Dawn" hype march grudgingly alongside Stewart.
Perry herself struggled in early 2012 through a divorce from Russell Brand.
"[Katy's] been checking on him to let him know she's there for him," an insider told Us. "She's been through heartbreak this year too."