Kristen Stewart Cheating Pics Hit the Web
by Andy Neuenschwander
We've shown you some of the denial and anger from Twihards over Kristen Stewart cheating on Robert Pattinson with her "Snow White and the Huntsman" director Rupert Sanders, but there's no denying it now: the pics have hit the Web.
The slideshow of photos from US Weekly, who broke the story last week, clearly show Stewart and Sanders making out in a car, then getting cuddly on the side of the road.
Some stray observations on the set:
- If you're one of the most tabloid-friendly celebrities in the world and you're going to have an affair, a car on the side of the road in broad daylight is probably not going to cut it.
- An LA Dodgers hat and some sunglasses aren't going to help much, either. That ain't much of a disguise, Clark Kent.
- An extra juicy detail: apparently that Dodgers cap belongs to Pattinson.
- Witnesses say that Sanders was "kissing her entire body," which you can kinda see in the photos. Giovanni Agnelli, who directed Stewart in "Welcome to the Rileys," tweeted that Stewart didn't have "any type of sex" with Sanders. He has since deleted that tweet.
- It looks as though the pair was interrupted by a phone call for Sanders. If that was wife Liberty Ross calling him... hoo boy.
- Maybe this is not important, but can we talk about Stewart's outfit? Is that what one wears to an illicit affair? Baggy sweatpants pulled down past the hips and a tank top? Seems like nobody ever gets dressed up for big events anymore.
You can see a couple of the photos below, or check out the entire slideshow over at US Weekly.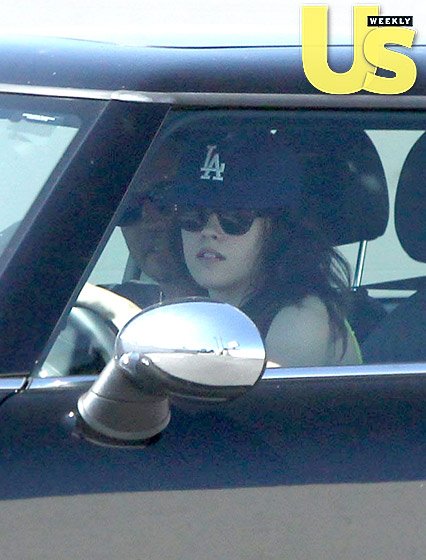 Photo source: USMagazine.com