Kristen Stewart Says 'Breaking Dawn' Press Tour Will Be 'Totally Fine'
by Andy Neuenschwander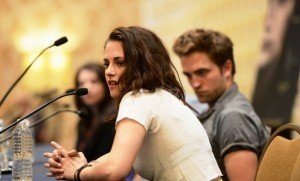 Now that the big cheating scandal has more or less blown over, there's one more hurdle for Kristen Stewart and Robert Pattinson: the press tour for "The Twilight Saga: Breaking Dawn - Part 2."
As hurdles go, this one is about as high as a bunch of vampires on a vial of Lilith blood.
You would have to assume that it will be pretty awkward for Stewart and Pattinson to go around promoting a movie together, especially one in which they play a husband and wife who are the definition of desperately in love, after the very public affair that Stewart had with her "Snow White and the Huntsman" director Rupert Sanders. But K-Stew begs to differ.
"We're going to be fine," she told the press. "We're totally fine."
It may be true that Stewart and Pattinson have patched things up enough to be in each other's company, but promoting a movie is another thing entirely. When you consider the fact that these two are probably the most publicly awkward movie stars in recent memory (and I'm not just being mean, they have both said that they're awkward in interviews themselves), it's a good bet that things aren't exactly "fine."
But hey, maybe Rob finally hired that publicist he's been meaning to hire and they'll be able to handle this whole thing with grace, poise, and some pre-planned talking points.