Mark Burnett Weighs In On 'The Voice' Emmy Noms, 'American Idol' Snubs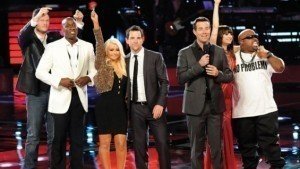 Following Thursday's Primetime Emmy nomination announcements, there's apparently a tide rising among primetime singing competitions. Carson Daly, Christina Aguilera, Adam Levine, Blake Shelton and Cee-Lo Green are sipping naught but champagne aboard a schooner.
Before them on the beach, Team "American Idol" is buried to their necks in the sand as the waves lap at their chins.
The Hollywood Reporter claims "The Voice" producer Mark Burnett awoke "in a very good mood" as a deluge of congratulatory e-mails and phone calls washed over him following his combined five Emmy nominations for NBC's hit and ABC's "Shark Tank."
"If only you knew the amount of people who said to us, 'You're crazy making another music competition show. America's got enough of them and no one is going to watch another one with spinning chairs,'" Burnett said. "But my instincts with NBC were that this would work, and I think that it did because this show plays on an idea of making ordinary people feel powerful."
Then again, scope out how the other half lives.
"Idol" is in the midst of an overhaul, trying replace departing judges Steven Tyler and Jennifer Lopez with the most talked-about marquee names money can buy while producers and Fox brass contemplate salary reductions, budget cuts and layoffs to keep production costs feasible following a season of declining viewership and falling ad revenue.
Oh, lest we forget: it's not like lone surviving judge Randy Jackson has committed to a new deal himself, either.
Again, the tide metaphor: it's rising, but there's breathing room. "The Voice" has had an outstanding two seasons of ratings for NBC. People love Cee-Lo, and the incessant bickering of Aguilera and Levine makes for good water-cooler talk. Maybe that's the cue "Idol" must take: a mind to chemistry, for better or for worse. In the early days, at least Jackson was lovable. He was the smirking, charismatic third-party tie-breaker to the entertaining bickering between Paula Abdul and Simon Cowell.
It's one of the few remaining factor that Fox can control. Fox can't help the dilution of the talent pool available to these shows and more contestants are spread across more and more shows - mainly, "America's Got Talent," "The X Factor" and "The Voice." If professional sports prove anything, it's that you can buy up every major star's services you can and still lose, without a bond between the players.
Obviously, "Idol" needs to give the judges roles short of "Figurehead A, B and C." Take some power OUT of the hands of viewers, and give judges some say in elimination. Make it something more than strictly a "popularity contest" and boot some emphasis back onto actual ability. That way, we could perhaps get back to a competition that's as much steak as it's become about sizzle.
The signs are getting harder to ignore. It's rare for "Idol" to ever become an afterthought, even at its worst. The young lions may be ready to run the eldest male out of the pride.
Share This Story:
Talk About This: