Maxim Hot 100 List Has 'Hunger Games' Hottie Over Kristen Stewart and... Stephen Colbert?
by Andy Neuenschwander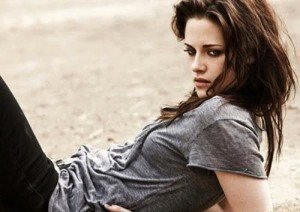 Every year, the Maxim Hot 100 counts down the 100 hottest women in pop culture, factoring in both looks and career buzz to form a perfectly arbitrarily ordered excuse to look at attractive celebrities and argue about their placement in said arbitraily ordered list.
Last year saw "Transformers: Dark of the Moon" hottie Rosie Huntington-Whiteley topping the list (we took some offense to that, because clearly it's important), but this year the model/actress dropped to #11. So, who took the top spot? Yet another model, Bar Refaeli, who also happens to have dated Leonardo DiCaprio.
Refaeli is followed by Olivia Munn at #2, who has seen a spike in recent movie roles (and a hacked nude photo scandal) this year, Mila Kunis at #3, the Billboard-tastic Katy Perry at #4, and Olivia Wilde at #5.
This year's list has some noticeable oddities: firstly, coming in at #85 is animated "Family Guy" character Lois Griffin. Clearly many of the Maxim voters are "Family Guy" fans. Many of them must also be fans of Stephen Colbert, as the comedian and host of "The Colbert Report" made history as the first man to make the list, coming in at an all-too-convenient #69.
Notably, "The Hunger Games" star Jennifer Lawrence beat out "Twilight" star Kristen Stewart by nearly 10 spots, coming in at #6 to Stewart's #15. Lawrence will be shooting the "Hunger Games" sequel "Catching Fire" later this year, and Stewart has two big movies coming out: "Snow White and the Huntsman," which releases next week, and "The Twilight Saga: Breaking Dawn - Part 2," which comes out in November.
Check out the full Maxim Hot 100 list. And, for the reasoning behind Bar Refaeli's #1 spot, I give you exhibit A: