Megan Fox and Brian Austin Green Are Pregnant
by Andy Neuenschwander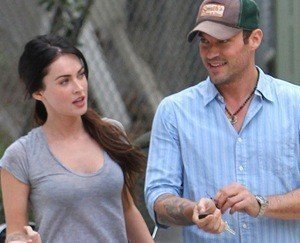 Well, this is (kind of) a surprise: according to E! Online, former "Transformers" star Megan Fox is pregnant with her first child. Her husband, Brian Austin Green, has a 10-year-old son with his ex, Vanessa Marcil, so Megan has had some parenting experience in helping Green raise him. The couple married in 2010 after a bit of an on-again, off-again relationship.
The couple hasn't confirmed the pregnancy yet, but E! is claiming that a source close to the couple delivered the news. A similar report last month claimed the same thing, but the couple has yet to respond to either. It's tough to imagine the pint-sized Fox even being able to get pregnant, so the couple's confirmation will be an important piece of news.
Assuming the couple is expecting, though, Fox should be happy: she has expressed in the past that she wants to have children, and a few of them at that. Though Fox's career has been quieter since she left the "Transformers" franchise (and marked by the disastrous "Jonah Hex" and "Jennifer's Body"), the starlet has recovered of late, appearing in the critic-friendly comedy "Friends with Kids." She will appear next in Judd Apatow's "This Is 40," a spin-off sequel to "Knocked Up" starring Paul Rudd and Leslie Mann.
If the rumors are true, we wish the couple the best, and gently suggest the names Megatron (if it's a boy) and Moonracer (if it's a girl).