NBC Sarah Silverman Pilot Picks Up Jeff Goldblum
by Sean Comer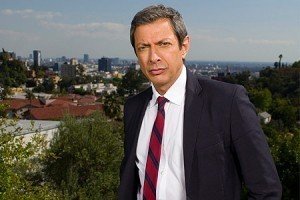 From playing one of two gay dads on "Glee," Jeff Goldblum will drop right into Sarah Silverman's developing NBC comedy pilot, according to The Hollywood Reporter.
The veteran actor star of "The Fly," NBC/USA spinoff "Law & Order: Criminal Intent," and both "Jurassic Park" and its sequel "The Lost World" has signed up to play Sarah Silverman's ex-boyfriend in the accerbic comedienne's semi-autobiographical sitcom in the making "Susan 313." Goldblum will play the one-time love of Silverman's life with whom she lived for 10 years. The show itself centers on Silverman resetting her life after that relationship's end.
If the series gets picked up, there's a chance Goldblum's role could become a recurring one, THR claims.
Though the two haven't worked together extensively, Goldblum and Silverman know one another from a turn starring together on FX's fantasy-football comedy "The League." The current cast, in addition to the two playing the one-time couple, also includes Tig Notaro, Ken Leung, Harris Wittels and June Raphael. Silverman will co-write the pilot alongside her former collaboraters on Comedy Central's "The Sarah Silverman Program" Dan Sterling and Jon Schroeder.
The pilot will be produced via 20th Century Fox and partners Ron Howard, Brian Grazer, Francie Calfo and Ken Kwapis.
Before Goldblum reports for her duty with "Susan 313," he'll next be playing one of Rachel Berry's oft-referenced two gay fathers Hiram Berry on "Glee" later this season. He's also made recent small-screen appearances on IFC's "Portlandia" and in a voice roll on FOX's animated "Allen Gregory." He's been cast to appear on the big screen in "Tim And Eric's Billion Dollar Movie" later this year.