Nicollette Sheridan's 'Desperate Housewives' Case Ends With Mistrial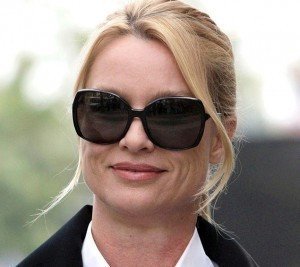 With the "Desperate Housewives" finale looming after eight seasons, former co-star Nicollette Sheridan's wrongful termination suit has likewise been laid to rest - albeit, much less definitively.
A Los Angeles jury informed Judge Elizabeth White Monday that they couldn't decide one way or another whether or not it was a 2008 rehearsal spat between Sheridan and series creator Marc Cherry that caused her firing. The final tally after three days' deliberation favored Sheridan 8-4....one vote shy of a decisive verdict, reports The Los Angeles Times.
Sheridan, 48, was after a $5.7-million claim against Cherry and Touchstone Television Production. The defense had spent the trial claiming that Sheridan was already due to be written off the show before the incident with Cherry. Sheridan's account claimed that Cherry struck her "hard" on her temple during a discussion about dialogue. Though Cherry countered that he merely tapped her head demonstrating how she should deliver a light, playful hit to her on-screen husband, Sheridan reportedly yelled "You hit me! You can't hit me!" before she stormed out.
The "Desperate" dirty laundry didn't stop with the lone incident. Testimony throughout the two-week trial recounted tabloid leaks, salary issues, bickering about flubbed lines (particularly with co-star Teri Hatcher) and co-stars Felicity Huffman and Eva Longoria being "relieved" at Sheridan's departure.
Everything came back to the timing of killing off Sheridan's character, Edie Britt. ABC's human resources department cleared Cherry after Sheridan complained, four months before she learned she would be written out. The Times reports that 10 witnesses for the defense testified that the decision had been made months before the incident. Two said it wasn't decided until later.
Set construction coordinator Michael Reinhart testified that he received - mistakenly, he believed - and then deleted an email that he recalled contained instructions to destroy any and all documents regarding Sheridan's dismissal from the series. He also claimed that defense attorney Mark Baute contacted him and tried negotiating his testimony by promising job-hunting assistance if Reinhart would testify on the network's behalf.
Share This Story:
Talk About This: