Obama Roasts Trump, Pre-Empts 'Celebrity Apprentice' With Bin Laden Announcement; Trump Calls a Truce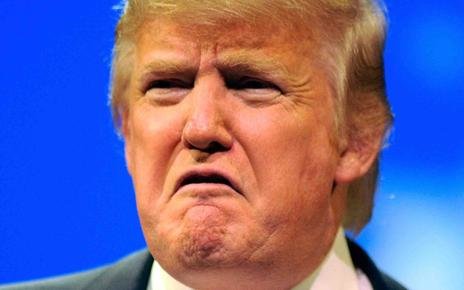 It was one hell of a rough weekend for The Donald.
After President Obama roasted him at the White House Correspondent's Dinner and Saturday Night Live's Seth Meyers skewered him mercilessly with a series of one-liners, on Sunday, his hit NBC series "Celebrity Apprentice" was pre-empted by President Obama's speech on the death of Osama Bin Laden.Then of course the derisive Tweets started pouring in from all over the interwebs.
It was all apparently enough for The Donald to raise the white flag (or at least call for a truce). In a statement to ABC News, Trump said:
"I want to personally congratulate President Obama and the men and women of the Armed Forces for a job well done. I am so proud to see Americans standing shoulder to shoulder, waving the American flag in celebration of this great victory. We should spend the next several days not debating party politics, but in remembrance of those who lost their lives on 9/11 and those currently fighting for our freedom. God Bless America!"
Trump's tone on Sunday, pre-announcement, was far less conciliatory.
On "Fox and Friends," he went after Obama and Seth Meyers with a vengeance, responding to Obama's comments at the dinner by attacking his lack of seriousness and comparing Meyers to a disabled person.
"Well, I really understood what I was getting into -- I didn't know that I'd be virtually the sole focus," said Trump.
"I had no idea it would be to that extent, where you know, it was just joke after joke after joke. It was almost like, is there anyone else they could talk about? I was certainly in a certain way having a good time listening but I don't think the American people are having a good time with $5 gas ... I was thinking to myself as they were doing this, you know, the American people are really suffering and we're all having fun. I think it's inaapropriate in certain respects."
About Meyers, Trump said "I thought Seth Meyers —- his delivery frankly was not good. He's a stutterer." Ouch.
After Obama's speech Sunday night, Twitter users quickly joined in the Trump skewering. Hollywood Reporter collected a few of the more interesting reposnses:
"Osama dies and obama announces it. sorry donald trump, obama has another 4 years." -- Adrian Sado
 
"Osama is dead under the Obama Administration and he roasted the hell out of Donald Trump the other night. How is he NOT the man right now?" -- John McCray
 
"First Donald Trump and now Osama Bin Laden? If I were on Obama's shit list I'd be pretty f%^king worried this week." -- Kieran Healy
 
Watch Obama Roast Trump


Watch Trump's Response
Share This Story:
Talk About This: