Once More, Kris Jenner Unhappy About A Kardashian Coupling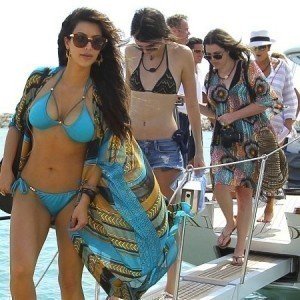 Fair question: does Kris Jenner like anybody that has or might marry into her family?
The Mama-Bear Kardashian now has apparently turned her disapproving eye toward daughter Kourtney Kardashian's love life. As recapped by Hollywood Life, last night's "Keeping Up with The Kardashians" outing featured Kris needling Kourtney about being an unwed mother with no plans to hitch herself legally to baby-daddy Scott Disick.
She told her oldest daughter that she's sick and tired of being sick and tired at Kourtney's "indecisive" take on not just children, but marriage. Of course, this all goes down amid a family meal.
Anyone else ever watch this show and feel like it could do with a nature documentary's narration explaining why some big cats eat their young?
During the Dominican Republic outing, Kris also laid into Kourtney over arriving a day late after some hand-wringing over which flight she should take. "Oh Kourtney you're so indecisive, 'I can't decide if I want another kid, I don't know if I want to marry Scott," Kris mocked.
In a recent interview for "Oprah's Next Chapter," Kourtney and Scott revealed that her relationship with Disick has recently benefited from a little intensive couples therapy with a second baby now on the way. "I can't ever take back the things I've said or done to anybody. Making Kourtney cry one, two or a million times [was the most disturbing thing I've done on camera]," Disick, 28, told Winfrey. "I'm not claiming I'm not an a--hole at all, I'm just saying, I definitely have some a--hole tendencies."
Share This Story:
Talk About This: