Preview A Performance From The Upcoming 'Glee' Whitney Houston Tribute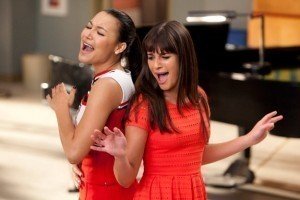 It's been rumored since Whitney Houston's Feb. 11 death. It was briefly previewed amid this past week's end credits. Now, enjoy a full performance from next week's "Glee" salute on FOX to the late pop great.
It was stirring enough hearing Mercedes (Amber Riley) deliver a stirring take on Houston's signature "I Will Always Love You" cover days after the legend's sudden death in a Beverly Hills hotel bathtub. But this one boasts a reported eight Houston hits, including Santana (Naya Rivera), Kurt (Chris Colfer), Mercedes and Rachel (Lea Michele) having an a capella go at one of her earliest, most memorable successes, "How Will I Know".
Originally released on her 1985 self-titled debut Whitney, "How Will I Know" was a star-maker that topped the Billboard Hot 100 Singles chart. On next week's episode, dubbed "Dance With Somebody", it's rumored to be joined by "I Wanna Dance With Somebody", "It's Not Right, But It's Okay" and five other Houston hits.
To see them all, tune in April 24 at 8 PM ET/PT on FOX.
Read the latest news on:
Glee
Share This Story:
Talk About This: