See the Poster for 'Dexter' Season 7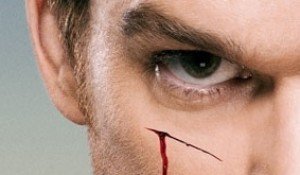 Let's be honest: there isn't a ton of variation in the key art for "Dexter" from year to year. Generally, the poster for each season features Dexter looking into the camera with his devilish smirk, with red blood spatters either in the background or on him.
The poster for season 7 looks about the same, with a close-up of Michael C. Hall's face with that same slight smirk, maybe a bit closer to a scowl than in the past. There's still blood, too, but there's one major difference: the blood is coming from Dexter this time.
The cut on his cheek resembles the cut that Dexter makes on his victims, which suggests that perhaps Dexter is in serious trouble this season. Dex has been pursued by Miami Metro in the past, but got away with it... will Deb's involvement in his dark secret finally be his downfall?
Speaking of Deb, the poster's tag line is "He Saw, She Saw." But at least she didn't see him sawing, you know what I mean?
Check out the poster below:
Read the latest news on:
Dexter
Share This Story:
Talk About This: