Watch Tony Bennett Drop In To Class Up 'The Daily Show'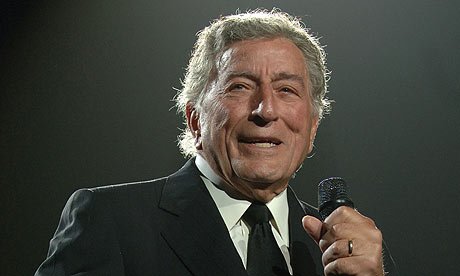 Tony Bennett has so much class, just having him in the room keeps the champagne bubbly.
Just look at the guy on "The Daily Show with Jon Stewart" Friday to promote his number-one "Duets II" album: even at 85-years-old, he projects that same effervescence and joie de vivre. I can't recall ever seeing him without that smile, that joy like he just walked in the Copacabana door.
We should certainly all be so lucky if we all reach this entertainer and World War II veteran's age, let alone maintain his class and zest.
Not only that, but watch how Bennett plays it when Stewart compliments Bennett on having had a charting single or album in ever decade since his career truly began in 1956. "It's a remarkable thing," Stewart said.
"I think it's a first," Bennett played it off simply with his signature smirk.
Bennett had some particularly somber insight into recording at Abbey Road Studios in England what would be Amy Winehouse's last song before her death.
"She knew she was in a lot of trouble, that she wasn't going to live," Bennett said.
Share This Story:
Talk About This: