See a Touching Tribute from Russian Fans to 'Community' Showrunner Dan Harmon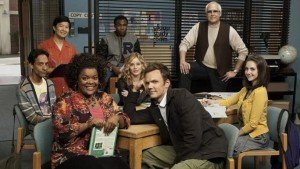 Even though "Community" has been renewed for a fourth season (well, half season really), it still feels as though the show is already gone. Why? Simple: Dan Harmon is no longer the showrunner.
Harmon was unceremoniously fired a few weeks back, right around the same time that NBC announced that "Community" would be back for another season. There are many different accounts of how this whole ordeal transpired from both sides, and suffice it to say nobody was really in the right. Harmon was guilty of being poor at management and creatively inflexible (though the latter is probably a good thing), while Sony never bothered to put their foot down, and NBC never gave the show much of a chance.
Despite the renewal, there's a feeling of unease among fans. Is "Community" the same show without its creator, Dan Harmon? It could be close, as some of the staff writers who have been there from the beginning are staying on. But Harmon was the brains of the operation, and he obviously rose hell with the network and the studio on a daily basis to keep the show's creative integrity. So the short answer is no, it isn't.
For that reason, there has been an outpouring of support for Harmon. The latest is this touching tribute from a group of Russian fans, who explain that their lives were brightened by "Community" and that they're sad to see Harmon go.
Check out the touching tribute photo below:
Share This Story:
Talk About This: