The Situation is Getting Sued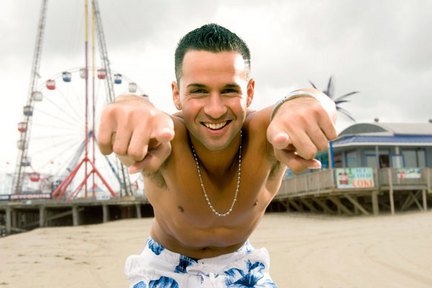 Life has been a series of unfortunate situations lately for "Jersey Shore" cast member  Mike 'The Situation' Sorrentino. First news broke that the tanned reality star best known for nicknaming his abs dramatically stormed out of the Seaside Heights house he shares with cast mates before the fifth season was finished filming.
Now it looks like his next appearance might be in court. Sorrentino is being sued by his former management company for $1 million dollars. To put it in "Jersey Shore" perspective: that's a lot of Ed Hardy shirts.
Sorrentino's former management agency Gotham NYC Entertainment is suing The Situation over breach of contract, according to TMZ. Sorrentino called it quits with the agency this May without giving the company the required 30-days notice.
The Situation claims he fired them for "lack of performance" while the company counters in the suit that they've stuck by him since the show premiered in 2009 and took "his career from relative obscurity to become an international celebrity."
The only thing sadder for our society than the idea of The Situation as an "international celebrity" is the fact that a $1 million dollar lawsuit  likely won't break the bank for the catchphrase-sprouting reality star. He lined his pockets while in Italy filming the fourth season of the show, making a cool $100,000 per episode to teach real Italians how to GTL.
With cast mate Vinny Guadagnino also storming out of the "Shore" house, it seems this might be the final season for the raunchy, orange-tinged MTV staple. Is it a relief the cast members may have beat up the beat for the last time or will you mourn the show?
Share This Story:
Talk About This: