'Social Network' Star Hosting 'Saturday Night Live'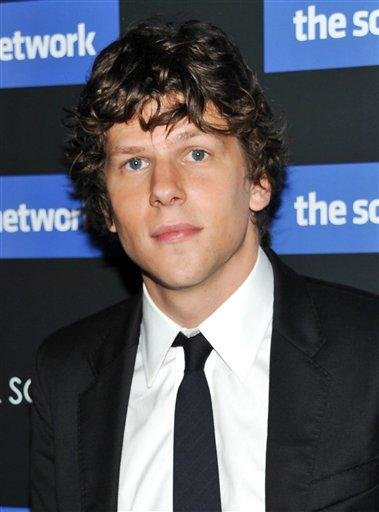 Here's one for your Facebook status: Jesse Eisenberg, star of "The Social Network" to host "Saturday Night Live" on Jan. 29.
The nerd-playing Eisenberg must have felt "liked" when his movie won four out of six nominations at the recent Golden Globes. The film about the rise of Facebook was honored for Best Score, Best Screenplay, Best Director, and Best Picture.
For his portrayal as CEO Mark Zuckerberg, Eisenberg was nominated for a Globe in the category of Best Actor, an award that ended up going to Colin Firth in "The King's Speech."
The SNL gig comes with perfect timing, as Eisenberg may soon get another go at a similar honor. The 27-year old star is a likely Oscar candidate for Best Actor. Nominations will be announced early Tuesday, giving Eisenberg and the SNL cast four days to craft an appropriate response for the actor's first-ever hosting.
Regardless of nomination, the reaction will likely echo his humble remarks made at the Golden Globes.
"I think it's my nature to — every time I hear about an award or a nomination, it makes me realize how much I must've been losing before, because I was not aware that every major city had these critics' awards," he said. "So while I'm so honored and it's wonderful to be acknowledged and to be associated with this wonderful movie, you know, it's a little overwhelming, too."
Known for his dry sense of humor, Eisneberg's work in twisted comedies such as "Adventureland" and "Zombieland" could also make their way into the evening's jokes.
Singer and fierce fashionista, Nicki Minaj will join Eisneberg as the show's musical guest.
Across the pond, Minaj has been hitting the headlines while promoting her new album, as MTV reports that she was recently kicked out a London Hotel due to unruly fans. According to reports, rampaging fans initiated fights inside The Dorchestor, a 5-Star luxury hotel, and vandalized a hotel elevator with graffiti.
Sounds like she'll be happy to home.
Share This Story:
Talk About This: