Team Coco FTW: Watch Conan O'Brien Officiate a Gay Wedding on 'Conan'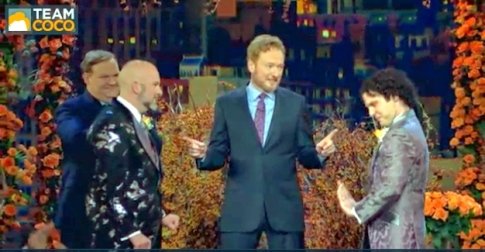 Last night Conan O' Brien showed that not only can he be funny, but that he's also an all-around pretty decent dude. On the final night of filming his show for a week in New York, O'Brien stood up to officiate a wedding between the "Conan" costume designer Scott Cronick and his long-time partner, David Gorshein.
As E! reports it, it wasn't all laughs for the world's most famous ginger comedian.
"This is for real," said O'Brien. "We are gathered here today in this beautiful place to witness the joining of two lives."
After Cronick was walked down the aisle by Bravo reality TV magnate Andy Cohen, he met up with Gorshein and the two exchanged vows.
Then O'Brien made it official: "By the power vested in me by the state of New York and the Universal Life Church, I now pronounce you husband and husband. You can kiss the groom."
It goes without saying that this is the first time a gay wedding has aired on a nationally televised nighttime talk show, and certainly the first time a mainstream talk show host has served as the officiant in such a ceremony.
What do you think? Will this type of event turn the tides for the gay rights movement?
Watch Conan O'Brien officiate a gay wedding on last night's "Conan":
Read the latest news on:
Conan
Share This Story:
Talk About This: