Tom Cruise Reps Reject Reports of Crowd Bribery
by Sean Comer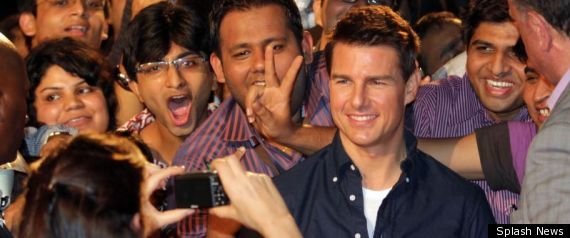 Tom Cruise must wonder lately: would it really be so much to ask if controversy didn't follow a "Mission: Impossible" sequel like a hungry dog following a man made of meat with jeans of jerky?
Unlike that time he threatened to pull out of promotion "Mission: Impossible 3" if Paramount-owned Comedy Central didn't yank a "South Park" episode skewering scientology, at least this one doesn't involve a seeming personal assault against Cruise and his beliefs.
His representatives are simply denying to The Huffington Post reports that Mumbai, India residents were paid to act pee-pants excited  to see him when he ventured there to promote the Dec. 16 release of "Mission: Impossible - Ghost Protocol."
First Post Bollywood broke the story that some 200-plus extras received around 150 rupes apiece - the equivalent to $3 - and some gratis grub in exchange for making a scene at Cruise's appearance.
"Tom Cruise is a massive star and attracts huge throngs of fans as he travels the world promoting 'Mission Impossible: Ghost Protocol,'" a spokesperson for Paramount said in a statement to The Huffington Post.
"The only people paid were performers who danced outside the venue. The idea that fans were paid to cheer is completely ludicrous and entirely false." Other sources told The Huffington Post that the paid-extras assumption lumped fans in with the paid dancers who performed at Cruise's promotional stop. Hence, the wacky mix-up.
"Tom kaun? [Tom who?] I don't know who he is or what he does," an unnamed "artiste" told First Post Bollywood. "We were told to come here by 1 PM today and wait for a foreign VIP to come out of the airport gate and scream and shout when he came. None of us know who Tom is. There was a buffet lunch also for us and we were paid 150 rupes for this job today. We do this for television shows and other such events where crowds are required."
According to the Mumbai Mirror, an agency called Wizcraft organized Cruise's visit, and allegedly outsourced hiring the "extras" to still another agency. A Wizcraft representative got a bit long-winded explaining away the confusion any further.
"We are not aware of this. Your information is incorrect," a Wizcraft rep said.