'Twilight' Fan Killed In Comic-Con Accident
by Sean Comer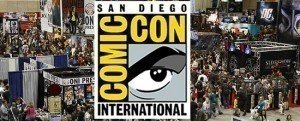 A car-pedestrian accident claimed a life Tuesday at the San Diego Convention Center's annual San Diego Comic-Con, Deadline reports.
The as-yet unidentified, reportedly 53-year-old woman was moving to line up outside the San Diego Convention Center for the panel featuring the cast and filmmakers of Lionsgate's "The Twilight Saga: Breaking Dawn Part 2" when she was stuck by a car.
She was reportedly trying to run across a crosswalk around 9:20 AM and tried to stop for an oncoming Subaru, the San Diego Union-Tribune claimed. She was killed when she tripped and fell into the vehicle's path. The woman - identified by fellow fans as "Gisella" previously, died at a nearby hospital.
Though Comic-Con doesn't open officially until July 12, it's standard practice for fans to line up days early for seats to the most anticipated panels. The annual comic, fantasy and sci-fi convention runs July 12-15.