VIDEO: Joel McHale Trains 'Bridesmaids' Star Melissa McCarthy for Emmy Nominations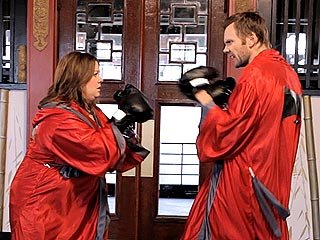 If you didn't know any better, you would think that announcing the Emmy nominations would be a walk in the park: you just stand there and read of a teleprompter, right?
Wrong! It takes intense training and hours of getting punched in the face! At least, that's what "Community" and "The Soup" star Joel McHale would have you believe.
This hilarious video features "Bridesmaids" star Melissa McCarthy, who is set to announce the Emmy nominees this year, approaching Joel McHale and asking for advice. McHale, doing his usual too-cool-for-school routine, shrugs it off at first, but then takes McCarthy on as his protogé, training her the best way there is: with a montage!
Watch as McCarthy chases a chicken, ignores a cute cuddly puppy, folds endless laundry, and gets repeatedly punched in the face. These two are actually a pretty solid comedy duo. I smell a sitcom!
The best part, though, is McHale's feigning ignorance at which "chicks getting married" movie McCarthy actually starred in. I think he goes through just about every wedding movie in existance without mentioning "Bridesmaids."
Check out the video below:
Share This Story:
Talk About This: