Watch 4 Trailers for CBS's New 2012 Shows, Including the New Sherlock Holmes
by Andy Neuenschwander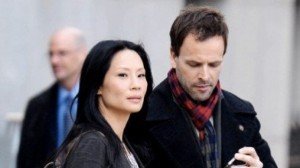 When you're the #1 network and you have a juggernaut like "Two and a Half Men" going, not to mention popular procedurals like the "NCIS" franchise, you don't have to do a lot of tweaking. For that reason, CBS doesn't have quite as many new shows this year as, say, ABC or NBC.
But it does have six new ones, including these four, for which the network has released new trailers. Among the new offerings is "Vegas," a period drama from the writers and producers of "Goodfellas" and "Walk the Line." With credits like that, it's easy to imagine that this creative team could come up with a period piece that actually works on network TV.
Despite its robust lineup of sitcoms, CBS is adding another in "Partners," which focuses on two business partners who get involved in each other's personal lives.
CBS is also adding two new procedurals: "Made in Jersey," which centers on a female lawyer from New Jersey who uses street smarts to compete at her firm, and "Elementary," an update of the "Sherlock Holmes" mythos set in the modern day, and with Lucy Liu in the Watson role.
Check out the trailers for the new shows below: