Watch a Sneak Peek of 'Glee Live 3D!' in Concert (VIDEO)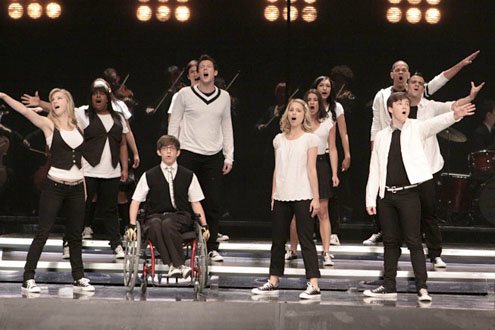 If you were dying to get tickets to the "Glee Live!" touring show but couldn't get them, there's hope for you yet: a while back, it was announced that the show would be filmed in 3D and put in theaters in a limited release. So, you won't really be there, but in 3D it'll be the closest thing to the actual show.
During the "MTV Movie Awards," a sneak preview clip of the "Glee Live 3D!" show aired. It's a quick one, but it gives you an idea of what to expect from the event...a lot of lights, stage effects, some crazy dance moves from Brittany (Heather Morris), and all your favorite "Glee" stars together on one stage: Cory Monteith, Lea Michele, Darren Criss, Mark Salling, and others.
Not in attendance, sadly, will be Matthew Morrison and Gwyneth Paltrow, who cancelled their appearances with the tour due to rumors of an affair between the two of them.
Check out the sneak preview video below. Looks like a pretty crazy time!
Share This Story:
Talk About This: